The fashionable and trendy around the world make fashion look effortless, but indeed it is not child's play. A majority of women who try to emulate the fashionistas of our time, fall flat in their attempts because they repeatedly let small things slips; and in fashion it is the minute details that actually count a lot.
Here are a few ways by which we can be a diva in simple sober dressing too!
1.Flowy Skirts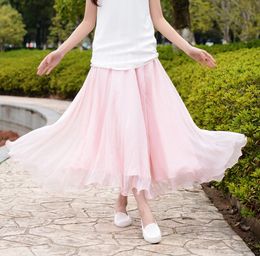 Skirts-Midi & long can be equally sexy as miniskirts! Moreover the soft & subtle colours can be teamed up with anything. If pleated then it's like a cherry on the top to flaunt and curl round.
2.Maxi Dresses
A Maxi dress serves well on any kind of occasions from day to night. Maxis just can't go wrong.A sleeveless or a netted sleeve in a dark hot shade or a very neutral colour with some accessories is just a Wowwww!!
3.Red Lipstick
Red-the colour of blood, the colour of love can steal every heart! Red is not only bold but sensuous too. A red lipstick is a must possess in every lady's vanity!
4.Heels or flats
An extra edge or simple flats can actually change the whole outfit. All needed is a matching outfit for your pairs.
5.Lace Hems
Lace is super sexy and even sexier if worn right! Not necessarily lingerie but probably a lace sleeve, lacy borders, an intricate net pattern n the dress!
6.A Favourite jeans Pair
Jeans can be equally sexy if teamed up right. May be some shades on it or the mid flap torns or your daily pair of jeans even!! Skinny ones serve the best for this purpose!
7.Chandelier Earrings
Putting your hair up and adding a pair of chandelier earrings does wonders for your style! They draw attention to your nape and that's definitely adding to your sexy factor
8.Smoky Eyes
Well I believe in the fact that Eyes Can TALK!! And especially when they are smoky dark ones. The shimmery shades with long lashes and a keen eye sight can conquer every man's world!
All girls come across times when they want to look damn hot but not to be too slutty too! And if we somehow get to do this without showing much skin then it's like a cherry on the top! Be sexy without revealing anything!
Author : Pallavi Rohatgi